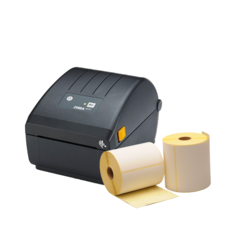 DHL Starter Package
2.520 shipping labels
102mm x 210mm
Zebra ZD220D
Order your high-quality label printer + 12 label rolls all for a bargain price.  
We offer a wide selection of affordable package deals that have been specially created for various courier/transport services. These starter packages consist of one Zebra ZD220 label printer with 12 label rolls of compatible Zebra labels. Come check out our available packages to find your ideal starter package! 
Can't find what you're looking for? Feel free to contact us by telephone, email or chat. We're happy to help!
This DHL starter package includes:
1 Zebra ZD220D label printer
12 compatible label rolls, 102mm x 210mm, 300 labels/roll, 25mm core, white, permanent

Thermal material labels must be printed using a thermal printer, namely the Zebra ZD220D label printer. Thermal labels discolour and create text through heat. This eliminates the need for the extra cost of ink/toner. These DHL compatible thermal labels in the size of 102mm x 210mm are mostly used as shipping labels. 
Compatible Zebra 102mm x 210mm labels are easily bought at Zolemba
Are you in need of new Zebra labels? Forget overpriced, original products. Zolemba delivers the same quality at a better price. 
| Quantity | Per unit |
| --- | --- |
| 1 | €224.85 |
Delivery within 4 working days
Free shipping from: € 450,-
In house production
Satisfaction guaranteed
Over 90.000 satisfied customers