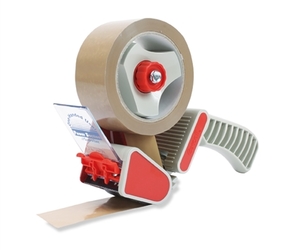 A box sealing tape dispenser is an ideal tool for sealing packages and/or cardboard boxes. All standard PP and PVC tapes with a roll width of 50 mm and a 76 mm core are suitable for this tape dispenser. 
Get your tape dispenser quickly and easily at Zolemba!
The tape dispenser is equipped with a steel frame with a hard plastic handle. The rolls of tape are quick and easy to change and load. The serrated blade on the end of the tape dispenser makes it possible to cut tape easily. In addition, the knife also keeps the tape in the ideal starting position. By using this tape dispenser you keep one hand free to keep your package stable. The grey red tape dispenser from Zolemba has a flexible touch flap that pulls the tape and puts it under tension during cutting. This keeps your tape wrinkle free and easy to apply to your packages or boxes. 
| Quantity | Per unit |
| --- | --- |
| 1 | €9.50 |
Delivery within 4 working days
Free shipping from: € 450,-
In house production
Satisfaction guaranteed
Over 90.000 satisfied customers