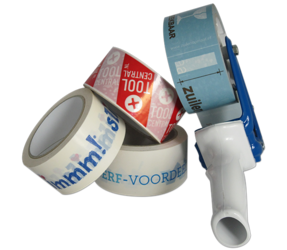 transparant
50mm x 66m
PVC
Box of 36 rolls
Print your own design on packaging tape and allow your shipment to become extra special for shipping, storing and delivery.
Specifications for Transparent PVC Tape:  
Manually processable
Strong adhesion
Scratch-resistant printing
Suitable in temperatures of -20 °C to +40 °C
Long shelf life
Rolls quietly with more structure
Little to no stretch
Prices are for 36 rolls per box
You will receive a free tape dispenser with your first new print order. This is not the case with an unchanged reprint. Extra tape dispensers are available for ordering.
Print Your Own Logo on Transparent Packaging Tape!
By providing your packaging tape with your own logo, name or text you will quickly recognize each shipment. Your brand is now noticeable for package that you send out!
Transparent packaging tape has a long shelf life and has a strong adhesion. In addition to packaging and closing cardboard boxes, the tape is also suitable for marking, bundling and technical purposes.
At Zolemba, it is possible to order printed tape with the minimum order of 36 tape rolls. We supply PVC tape in three different colors: white, brown/havana and transparent.
Delivery time: 4-5 weeks
Begin by creating your order. After your order has been placed, you can upload your files.
See our print specifications for printed tape.
Free shipping from: € 450,-
In house production
Satisfaction guaranteed
Over 90.000 satisfied customers
Specifications
Other